The Bygone Beachcombers project would not have taken place or been a success without the support of a lot of different people.  And Bygone Beachcombers has been intertwined with, and relies on the availability of Beach Hut No. 9 as a base for engaging the community and for hosting all the Beachcombers 'museum' memorabilia, materials and more.
So our thanks go to the following…
Our funders
Thank you firstly to our funders – the Heritage Lottery Fund.  Their funding during 2016 and 2017 has made the Bygone Beachcombers project possible.
Thank you too to the Tribune Trust whose additional funding earlier in 2016 helped purchase games and equipment and get Beach Hut No. 9 fit for use.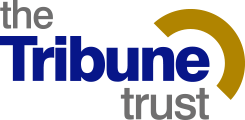 Key organisations
Capacity Buildings Ltd was the lead organisation in this project.
VANEL were contracted to provide much of the technical work, media production, project and content management and more.
Friends of Cleethorpes Heritage (FOCH) who were helpful in providing us with research materials during the project.
The North East Lincolnshire Council Community Safety Team for helping to connect this project to many wider issues in the community.
The Grimsby and District Archive Club whose previous research on Cleethorpes proved invaluable.
Key individuals
Steve Lynn from VANEL for project managing the Bygone Beachcombers project.
Josh Short from Capacity Buildings and latterly VANEL was part of the original research team.
Helen Pickett from the IGNITE team who has been helping with the historical research and preparing content and news for the website.
Rebecca Freeman from the NELC Community Safety Team who has provided much time as a volunteer to many aspects of the project.
Elizabeth Evans, local dressmaker who made those excellent vintage swimming costumes that you can see down at Beach Hut #9.
Julie Vikers for making our sunhats!
Ann Reavey at Friends of Cleethorpes Heritage for research contributions.
Alan Dowling. Long term researcher and historian for all things related to Cleethorpes. His books, photos, writings and face to face contributions have been invaluable.
Our Volunteers
Many of the people already credited have acted as volunteers too, but thank you to each and everyone who has volunteered either on the Bygone Beachcombers project or on the work to redevelop Beach Hut No.9 and make it available to the community.
Our Contributors
Thank you to everyone who has provided us with their memories – be they in the form of photos, audio or video recordings, written memories, interviews or otherwise.
Thank you to all those who have provided memorabilia, posters, postcards or other items to display at Beach Hut No.9.
Thank you in particular to:
Alan Dowling, Doreen Tyson, Ann Stones, Vik Waters, Sarah Palmer, Lillian Starkey, Babera Gayfer, Barbara Cole and Gareth Thompson for their submissions.
Other thanks
To Humber Nature Partnership and the NELC Ecology Team for helping us with information around the natural environment of Cleethorpes and the area around the Beach Chalets.
If we've missed someone at this stage – apologies.
We'll be returning to this page regularly for updates.